Gezond eten op school is steeds belangrijker. Een onderwerp waar veel aandacht voor is. Geef je kind geen snoep en koek mee naar school, maar lekker fruit en gezonde groenten. Een gezonde broodtrommel dus. Beter voor de gezondheid van je kind en betere brandstof om ze fris en alert de dag door te laten komen!
Gezonde broodtrommel
Je hoort het steeds vaker, kinderen op school krijgen de richtlijn om een gezonde broodtrommel mee te nemen. Geen snoepjes voor tussendoor, maar fruit en groente als extraatje. Ook voor traktaties op school wordt gezond eten gestimuleerd. Een goede ontwikkeling, zeker met de toenemende mate van obesitas onder kinderen.
Klinkt dus als een mooi initiatief, maar als ouders zijnde weet je vast ook dat gezond eten en kinderen niet altijd hand in hand gaan. Hoe krijg je ze dan toch zo ver dat ze hun gezonde broodtrommel leeg eten en niet vol weer mee naar huis nemen?
Zoete fruit en groente
Een goede start is het vervangen van snoep voor fruit en groente met een zoete smaak. Aardbeien, snoeptomaatjes en druiven smaken lekker zoet en zullen daarom bij veel kinderen in de smaak vallen. Zijn ze hier eenmaal aan gewend dan kan je overgaan naar andere soort groenten. Stukjes paprika, avocado en worteltjes bijvoorbeeld. Daarbij helpt het ook als andere kinderen op school dezelfde soort gezonde tussendoortjes in hun broodtrommel mee krijgen. Als anderen het eten zal jouw kind ook nieuwsgierig worden en meer aandacht krijgen voor de gezonde lekkernijen die in zijn of haar broodtrommel zitten.
In de broodtrommel
Om je wat inspiratie te geven hebben we een lijstje gemaakt van gezond eten voor in de broodtrommel. Variëren is natuurlijk mogelijk, zolang het maar gezond is.
1 snee YAM licht meerzaden met leverworst (let op of de worst glutenvrij is)
1 snee YAM licht meerzaden met amandelpasta
gemengde en kleurige snoeptomaatjes
plakjes geschilde komkommer
watermeloen in stukjes gesneden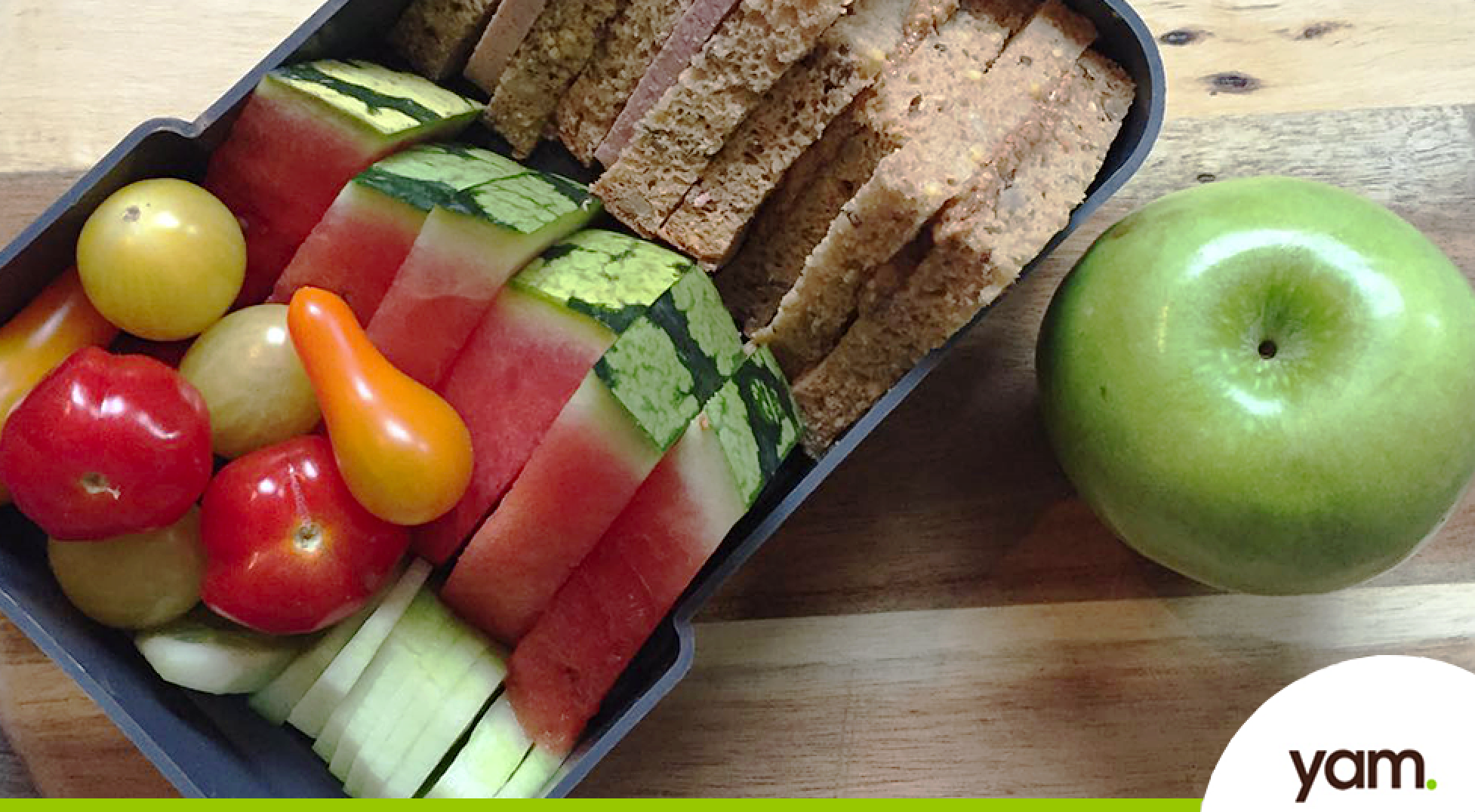 Broodtrommelliefde
Om je kind extra te stimuleren en te laten weten dat je aan ze denkt zijn de broodtrommelliefde kaartjes ontwikkeld. In drie varianten: met pictogrammen, voor kinderen vanaf 5 jaar en voor volwassenen. Super leuke kaartjes en een verassing als je kind zijn of haar broodtrommeltje opent op school. Een lief berichtje van mama of papa dat ze een glimlach op hun gezicht bezorgt. Wil jij een setje broodtrommelliefde kaartjes hebben? Wij geven 1 setje kaarten met pictogrammen weg! Met code 'yam' krijg je 15% korting op www.broodtrommelliefde.nl. De code is geldig tot 1 oktober 2016.